Our cottages are open onto the garden, where a luxuriant nature grows among the volcanic rocks, the gwo cailloux! In this wooded and flowery space, attracting hummingbirds and sugarbirds, you'll discover many species: palm trees, banana trees, mango trees, pandanus, traveller's palm, bougainvillea… And also a multitude of flowers: balisiers, alpinias, hibiscus, allamandas… In the heart of this green setting, ensuring the privacy of each accommodation, you can take advantage of the swimming pool to cool off. For children's safety, the access to the swimming pool is secured by a standardized barrier.
Charm and conviviality will be 'au rendez-vous' as you stay at Gwo Caillou.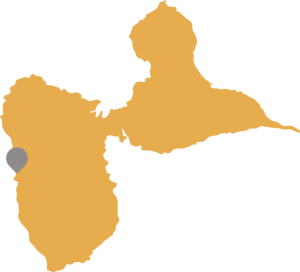 It is by the "Route de la Traversée", one of the most beautiful roads in Guadeloupe, that you'll reach our facility (45 min from the airport). Located in Bouillante, named after the many hot springs present in the surroundings, Gwo Caillou sits in the Pigeon district, in the heart of the leeward coast. We are located in a peaceful residential area close to all essential amenities: supermarkets, restaurants, grocery stores, pharmacy, bakeries, post office, gas station. Malendure Beach and Pigeon Islets (in the Cousteau Reserve) are just 2 km away. From Bouillante, you'll also have access to many forest and river hikes.
Halfway between sea and mountain, staying at Gwo caillou allows you to take advantage of an ideal situation to discover Guadeloupe.
Best things to do in Bouillante ?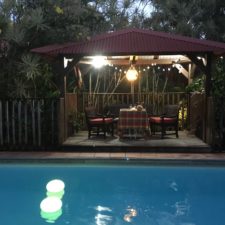 Moonlight at the swimming pool
Swimming with marine turtles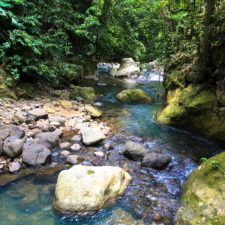 Enjoy exploring Bourceau river with its waterfalls
Our favourable geographic location in Basse Terre will allow you to easily discover the Soufriere Volcano in the south, the most prestigious site of the Guadeloupe National Park, as well as the fascinating environment of the mangrove in the north or the amazing beaches boarding the Caribbean Sea.
Come and take advantage of our ideal location to discover Guadeloupe.